The first implementation phase of CAT reporting is fast approaching. Industry members will begin reporting equity transactions in Phase 2a on April 20th and Options transactions in Phase 2b on May 18th.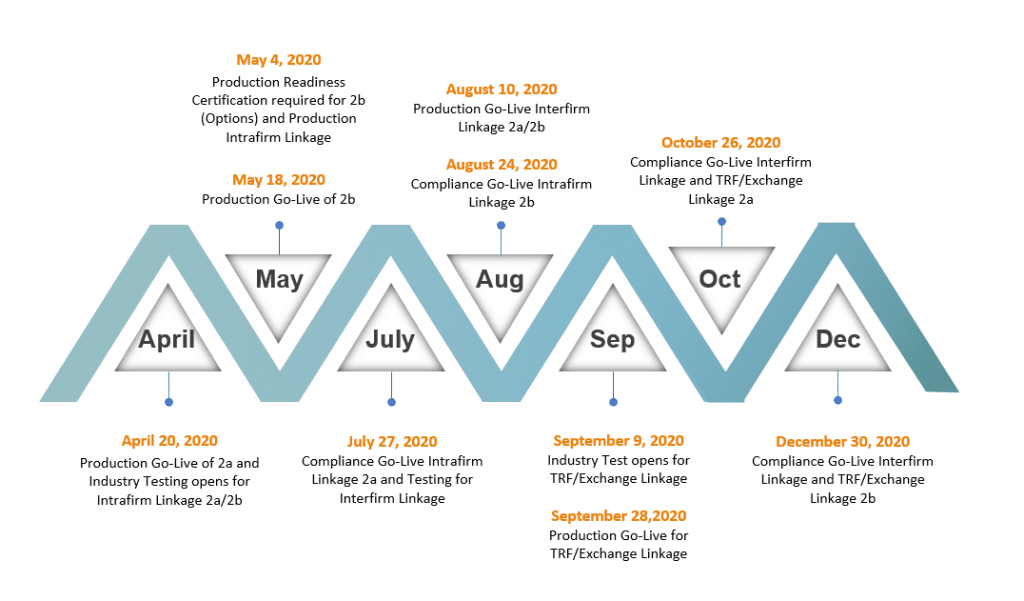 The initial reporting requirements are relatively straightforward and limited to syntax validation designed to meet the published FINRA Technical Specification. The planned phased implementation of CAT reporting will continue throughout the remainder of 2020 and will require Industry Members to link order events first within a firm, progressing to linking with external counterparties, and then finally linking order events with Exchange data.
Some firms who have multiple CAT reporting agents are considering the use of a consolidation service to report for them or assist with oversight and testing. Regardless of the individual reporting methods, all Industry members are encouraged to take advantage of this testing window and many will need this time to prepare for the Production Readiness Certification required to gain access to the CAT reporting environment before April 6th. It should be noted that full functionality in the FINRA CAT portal will not be available until late February, so early testing should help firms meet the aggressive timelines.
What Your Firm Should Be Doing
Ensure that your firm has registered for reporting with FINRA,whether you are reporting for yourself or designating a third-party reporting firm. Make sure data transmission lines are implemented and functioning correctly.
Do not assume that your clearing provider or technology firm will be doing all your reporting. In many cases, these clearing firms and technology providers will not have information related to order execution that may be housed in a separate third party or proprietary system your firm maintains. Each firm will need to evaluate data requirements and ensure which data will be produced by which technology provider.
Perform linkage testing and make certain you understand ALL of your trade flow, to ensure all required data is captured for reporting.
Prepare for the Production Readiness Certification required to gain access to the CAT reporting environment.
Consider employing an internal or external project manager or third-party vendor, to keep this project on track.
Oyster can help you assess how your firm is positioned for CAT readiness, manage your requirements assessment and implementation phases, interface with your own technology providers, and assist you in determining what and how your technology providers will report for you. We can also assist in testing data scenarios and data linkage, as well as creating an error repair process. Firms can also leverage Oyster testing tools to gather and analyze reported data and errors.